Unwanted hair can be very distressing to many people & electrolysis remains the only recognised & proven form of permanent hair removal. Isis Clinic uses the Sterex S X B epilator which is considered the Gold standard in electrolysis systems within the industry, a British Company formed in 1982 & renowned worldwide for its performance. The machine allows the electrologist to tailor each treatment specifically to the client's individual needs, taking into account differing pain thresholds, with precision settings to deliver more effective, comfortable treatments as well as more rapid permanent results than any other permanent hair removal technique. Therefore all or any unwanted hair can be treated on women & men, anywhere, painlessly and permanently such as:
Facial areas: lip, chin and beard

Large areas: legs and back

Bikini/genital area & underarms
Electrolysis is a universal & flexible treatment which is able to offer permanent hair removal to any combination of hair & skin colour, and can be used safely anywhere on the body (except inside the ears & nose). Unlike other treatments available such as laser & IPL which are only able to offer hair reduction, and not permanent removal. These methods cannot be used completely safely on anything other than fair skin and dark hair, without the risk of burning, as lasers target dark matter/pigment in the hair or skin which absorbs the light to produce the necessary heat!
Clients can therefore undergo electrolysis treatments in full confidence, being assured that they are being treated by a skilled, qualified electrologist, using the tried & tested safest technology available in the clean, modern surroundings of a private clinic. Isis Clinic uses ultra modern technology and equipment as well as a range of sterilised disposable high quality probes including gold & insulated one & two piece. And a choice of short wave diathermy, Galvanic, or blend treatments which can be switched at any time to provide effective, efficient treatment of all hairs, including those with stubborn curved follicles.
Any special requirements can be discussed prior to, or during you initial free consultation appointment, when a suitable treatment plan can be tailored to your individual needs. These will vary greatly depending on the cause, strength and density of hair growth, as well as the expectations and desired outcome of treatment expected by the client.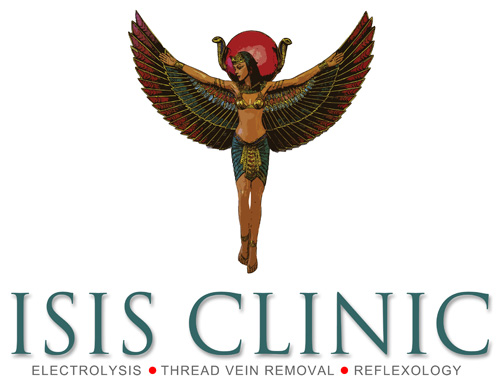 All content and images copyright © ISIS Clinic - All Rights Reserved
electrolysis, unwanted hair, thread vein removal, reflexology, swedish massage, isis clinic, southampton, hampshire